Constellations
is a print literary journal based in the Cambridge/Boston area, featuring poetry and short fiction. We seek writing that is fresh and resonant, and look forward to reading work from our local literary community as well as elsewhere.

UPDATE September 11th, 2020:
Submissions for our 10th issue, focusing on material with a theme of SYNTHESIS, are now closed. Thank you to everyone who contributed work.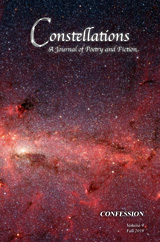 Meanwhile,
Constellations
volume 9: CONFESSION
is still available, featuring poetry, fiction, art, and photography from
80 contributors
. Weighing in at 230 pages, this is by far our largest issue ever. Thanks to all of our writers and artists, and for everyone's patience while we put together this behemoth.


The issue is available from
Amazon.com
in the U.S.,
Amazon.co.uk
,
Amazon.fr
,
Amazon.de
,
Amazon.es
, and
Amazon.it
in Europe, and
Amazon.co.jp
in Asia. (As an Amazon Associate, we earn from qualifying purchases.)
Please also join us in congratulating the authors of the following pieces, our Pushcart Prize nominees for issue 9:

"Don't Tell Anyone" by Nahid Rachlin (fiction, 3847 words)
• "Odes to Fair Havad" by Gerard Sarnat (poetry, 84 lines)
• "Confession" by Beate Sigriddaughter (poetry, 27 lines)
• "Beatles-Themed Laser Light Show at the Planetarium" by John Wojtowicz (poetry, 40 lines)
• "Waiting to Hear" by Deborah Rosch Eifert (poetry, 36 lines)
• "As We Are" by Tomas O'Leary (poetry, 15 lines)

We will reopen for
submissions
in March. Our 10th issue will have a theme of
SYNTHESIS
. See you then!