Constellations
is a print literary journal based in the Cambridge/Boston area, featuring poetry and short fiction. We seek writing that is fresh and resonant, and look forward to reading work from our local literary community as well as elsewhere.

UPDATE September 24th, 2021:
We have recently closed submissions for our 11th issue,
REDIRECTIONS
. Thank you to all who contributed. We are working on putting the issue together, and hope to publish by the end of autumn.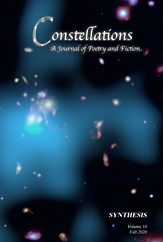 Meanwhile,
Constellations
volume 10: SYNTHESIS
is available, featuring 212 pages of poetry, fiction, art, and photography from
72 contributors
. Not only did we make it out of 2020, but we also made it into our second decade of publication. Thanks to all of our writers and artists, and for everyone's patience while we put together this behemoth.

The issue is available from
Amazon.com
in the U.S. Soon to be available from
Amazon.co.uk
in Great Britain,
Amazon.fr
,
Amazon.de
,
Amazon.es
, and
Amazon.it
in Europe, and
Amazon.co.jp
in Asia. (As an Amazon Associate, we earn from qualifying purchases.)
Please also join us in congratulating the authors of the following pieces, our Pushcart Prize nominees for issue 10:

"Executing Justice" by Anne Gruner (fiction, 1003 words)

"A Train Ride" by Tomas O'Leary (poetry, 35 lines)

"Variations on a Theme" by Johanna De May (poetry, 29 lines)

"War Movies" by Michael Pantano (poetry, 20 lines)

"Giving Up the Ghosts" by Thomas J. Misuraca (fiction, 2013 words)

"Terra Nova" by Karen Klein (poetry, 36 lines)