Constellations
is a print literary journal based in the Cambridge/Boston area, featuring poetry and short fiction. We seek writing that is fresh and resonant, and look forward to reading work from our local literary community as well as elsewhere.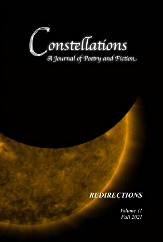 UPDATE March 15th, 2022:
We have officially opened for submissions for
Constellations
vol. 12 (
UNCERTAINTY
). Please review the guidelines on our
Submissions
page and send us your work. Thank you!

Constellations
vol. 11 (
REDIRECTIONS
) is now available
. Our second 100%-pandemic-produced issue features 198 pages of poetry, fiction, and photography from
70 contributors
.
Thank you to everyone who made this possible.

The issue is available from
Amazon.com
in the U.S.,
Amazon.ca
in Canada,
Amazon.co.uk
in Great Britain,
Amazon.fr
,
Amazon.de
,
Amazon.es
, and
Amazon.it
in Europe, and
Amazon.co.jp
in Asia. (As an Amazon Associate, we earn from qualifying purchases.)
Please also join us in congratulating the authors of the following pieces, our Pushcart Prize nominees for issue 11:

"At the Edge of the Cliff" by Krikor Der Hohannesian (poetry, 26 lines)

"Mrs. Professor Bostwick" by Kitty Beer (fiction, 2696 words)

"Daily Work" by Jan Ball (poetry, 73 lines)

"Cassandra's Ghost" by Beate Sigriddaughter (poetry, 29 lines)

"Trash, Keep, Maybe" by Chris Belden (fiction, 1768 words)

"HIPAA Violations" by Erik Moyer (poetry, 37 lines)